Ready, Set…WALK!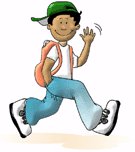 Our PTC sponsored WALK•A•THON is TOMORROW!  The weather is going to be perfect.  Don't forget to wear your Hudsonville Eagles colors…or dress like a rock star.  Parents, family, and friends are welcome to walk with the 4th grade students in our classroom at 10:30.
Walk•a•thon money is due on September 26.  The money that you donate helps us to fund the many events that we host for families, students and teachers throughout the year.
Winners for the WALKATHON will be announced on October 3.
Thank you for your continued support of the students and staff at Georgetown Elementary! 🙂